Shop Men's Socks by Collection
Men's Graduated Compression Socks
Don't let sore feet keep you down. Promote blood flow, ease post-workout pain, and get back on your feet sooner with Feetures men's compression socks.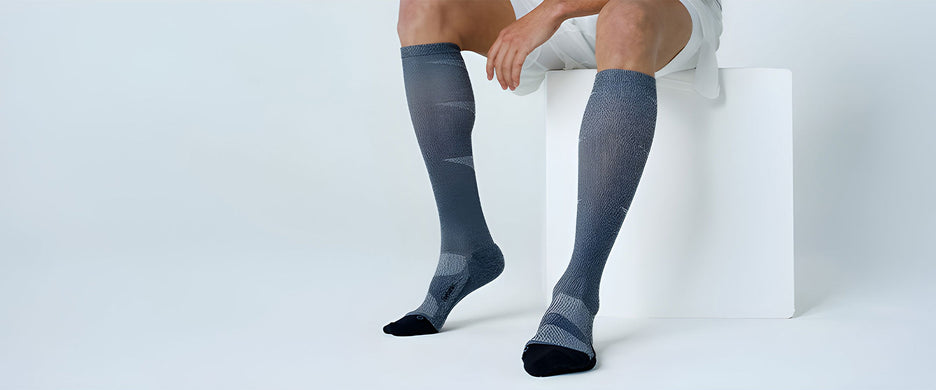 Size
S

Shoe size 4-6.5

Shoe size Y1-Y5

M

Shoe size 7-9.5

Shoe size 6-8.5

Shoe size Y5+

L

Shoe size 10-13

Shoe size 9-12

XL

Shoe size 12.5-15.5
Sock Height
Invisible

No Show Tab

Quarter

Mini Crew

Crew

Knee High
Cushion
Ultra Light
Light
Max Cushion
Color
Black
Brown
Tan
Gray
Pink
Red
Yellow
Blue
Green
Purple
Orange
White
Collection
Elite
High Performance
Merino10
Plantar Fasciitis Relief
Therapeutic
Graduated Compression
Everyday
Get Back on Your Feet in Men's Compression Socks
Looking for the best-selling men's socks for relief and recovery? Feetures compression socks for men provide unparalleled support and comfort to decrease downtime and improve performance. The non-binding top and seamless toe provide superior comfort and support when your feet need it most. Optimize performance and have a fast recovery with compression socks for men from Feetures. Shop today and experience the difference compression socks make for athletes, active diabetics, and people with special foot care needs.
Targeted Compression to Enhance Relief
Whether you're an experienced athlete, a weekend warrior, or need to take special care of your feet for health reasons, you know pain relief matters. Feetures compression socks for men are designed to provide superior support during competition or recovery with targeted compression where you need it most. The strategic zones of supportive compression are knit together into each sock using high-performance fibers that enhance relief quickly to get you back on your feet faster.
Anatomical Design to Reduce Blisters
With an anatomical design that helps reduce blisters and other common foot issues like chafing, discomfort and moisture buildup, you can do more in Feetures men's compression socks. Whether wearing compression socks to help you perform your best or give your feet a rest, these socks provide the right amount of cushioning and support so you can keep going strong.
Graduated Compression to Recover Faster and Get Back Out There
Graduated compression technology provides targeted pressure across the entire length of the sock, improving circulation and reducing swelling and muscle fatigue. With all these benefits, Feetures compression socks for men deliver everything you need to recover faster and get back out there doing what you love.
Men's Socks for Optimal Performance and Recovery
Whether it's time to rest and recover in men's merino wool socks, push yourself to the limit in men's running socks, or get business done in no-show socks for men, Feetures socks are made for it. Our collection of men's socks, including our men's plantar fasciitis socks, can help you perform better and alleviate discomfort mile after mile. Shop today and experience the difference with socks that are made to move.