Men's Trail Socks
Tackle any trail effortlessly with Feetures men's trail socks, crafted to ensure your feet remain dry and comfortable on every adventure.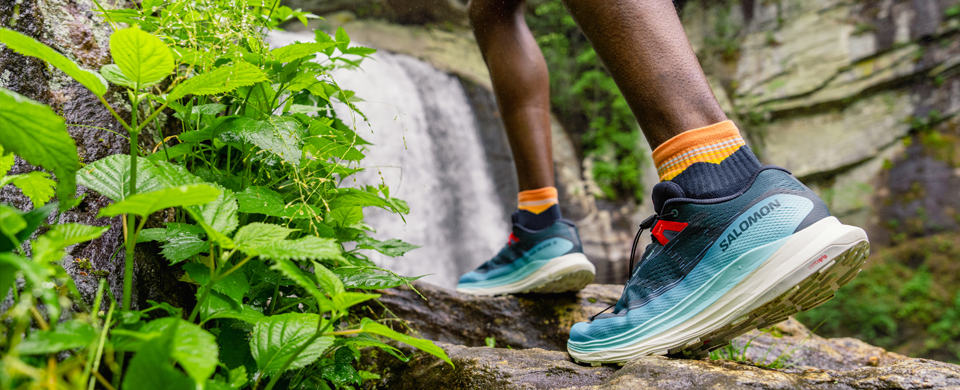 Size
S

Shoe size 4-6.5

Shoe size Y1-Y5

M

Shoe size 7-9.5

Shoe size 6-8.5

Shoe size Y5+

L

Shoe size 10-13

Shoe size 9-12

XL

Shoe size 12.5-15.5
Sock Height
Invisible

No Show Tab

Quarter

Mini Crew

Crew

Knee High
Cushion
Ultra Light
Light
Max Cushion
Color
Black
Brown
Tan
Gray
Pink
Red
Yellow
Blue
Green
Purple
Orange
White
Collection
Elite
High Performance
Merino10
Plantar Fasciitis Relief
Therapeutic
Graduated Compression
Everyday
Shop Men's Trail Socks at Feetures
Tackling trails is an exhilarating adventure that takes you into scenic and challenging terrain. Unlike pavement, long hours on the trail requires specialized gear to tackle unpredictable terrain, conquer nature's obstacles, and reach new heights. Among the essential equipment, investing in the best trail socks for men is crucial to ensure optimal comfort, protection, and performance during your trail escapades.
What Makes a Great Trail Sock?
When it comes to men's trail socks, certain features distinguish exceptional pairs from the rest. Paying attention to these factors will help improve your trail running experience:
Maximum Cushioning
Trail socks should provide maximum cushioning to absorb the impact of rugged terrain. From rocky paths to steep ascents and descents, adequate cushioning softens the blow and shields your feet from the harshest elements of the trail.
Durability
The best trail socks for men are built to withstand the demands of rugged terrain day after day. Look for reinforced heel and toe zones that enhance durability without compromising comfort. With reliable and long-lasting socks, you can confidently conquer any trail.
Comfort
When it comes to choosing top-notch trail socks, nothing surpasses the importance of comfort. Without proper comfort, your trail running experience may be cut short, hindering your ability to achieve your speed and endurance goals. Cushioning plays a vital role in providing the necessary comfort, while a seamless toe is equally essential to prevent any discomfort or irritation.
Comfort is paramount when it comes to trail running socks. Uncomfortable socks can hinder your performance and derail your speed goals. Look for socks that offer cushioning for optimal comfort, and seek those with seamless toe construction. By eliminating irritating seams, Feetures trail socks provide a smooth and friction-free experience from start to finish.
Compression
Compression is instrumental in delivering a snug and supportive fit—playing a crucial role in the design of Feetures men's trail socks. Our socks go above and beyond by incorporating targeted compression in specific zones that require enhanced support. This innovative feature aids in creating a personalized fit tailored to your unique needs.
Protection
When it comes to protection, Feetures has you covered with our men's trail socks available in quarter and crew lengths. Designed with added ankle coverage, our socks provide an extra layer of defense against common trail debris like dirt, rocks, and mud.
Crafted from recycled fibers, the yarn in our socks not only demonstrates our commitment to sustainability but also excels in moisture-wicking properties. By efficiently drawing away sweat and moisture, our socks keep your feet dry and cool, even during the most scorching summer runs.
Tackle New Terrain in Feetures Trail Socks for Men
Feetures trail socks are designed to help you achieve your running goals, whether that means going farther, tackling new terrain, or reaching a new elevation. They're high-performance socks designed to offer support, comfort, and durability, so you never have to worry about foot fatigue, blisters, or slippage.
Discover the best trail socks for men and gear up for an unparalleled experience. Whether you seek maximum cushioning, superior durability, or targeted compression, we have the perfect socks to elevate your trail running game.
Shop our entire selection of men's socks to experience the Feetures difference.