Women's Active Socks
Women's Running Socks
Make every mile feel like you're running on air with our custom-like fitting women's running socks! Get a pair today and notice the difference right away!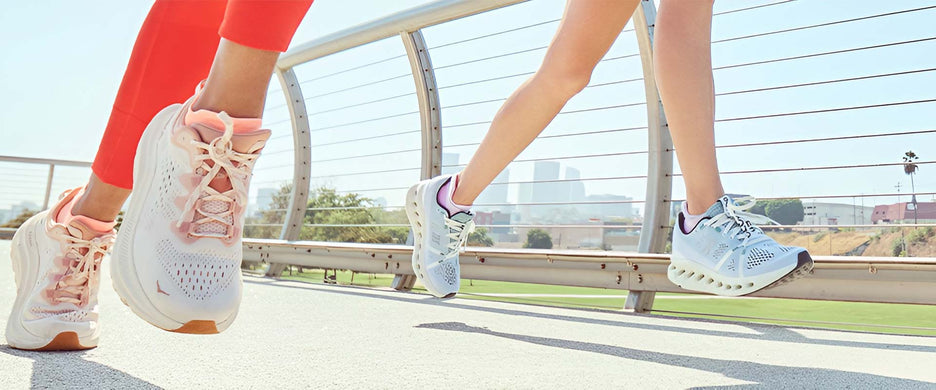 Size
S

Shoe size 4-6.5

Shoe size Y1-Y5

M

Shoe size 7-9.5

Shoe size 6-8.5

Shoe size Y5+

L

Shoe size 10-13

Shoe size 9-12

XL

Shoe size 12.5-15.5
Sock Height
Invisible

No Show Tab

Quarter

Mini Crew

Crew

Knee High
Cushion
Ultra Light
Light
Max Cushion
Color
Black
Brown
Tan
Gray
Pink
Red
Yellow
Blue
Green
Purple
Orange
White
Collection
Elite
High Performance
Merino10
Plantar Fasciitis Relief
Therapeutic
Graduated Compression
Everyday
Women's Running Socks
Whether you're hitting the pavement for the first time or training for your tenth 10K, our premium collection of women's running socks was engineered to deliver the ultimate in foot comfort and recovery. Through zone-specific compression, variable cushion levels, anatomical design, and advanced iWick fiber technology, we have created the perfect women's running socks for your performance and preference.
Our Exclusive Lines of Women's Running Socks
High Performance
Our High Performance running socks for women were engineered with comfort and durability top of mind. This line is ideal for long-distance running, hiking, or those seeking a supportive, no-slip fit through the duration of their workout regime. Advanced iWick fiber technology keeps feet dry far longer than our competitors, and the detailed craftmanship guarantees a consistently snug fit.
Elite
Our Elite line was created to be the best performance running sock for women in the world. Featuring the same comfort and durability as our women's High Performance socks, the women's Elite series boasts the added innovation of anatomical design. Through targeted and zone-specific compression, our women's running socks will conform to meet the unique needs of your right and left foot.
Merino 10
Our exclusive Merino 10 line utilizes a uniquely spun blend of merino wool and TENCEL fibers, resulting in a 200-thread-count sock that offers more comfort, breathability, and durability than any other merino wool socks for women out there.
Plantar Fasciitis Relief
Our Plantar Fasciitis Relief line provides convenient comfort where you need it most. Through targeted compression in three critical zones, this innovative women's Plantar Fasciitis relief sock is structured to lift, stretch, and stabilize the plantar fascia, while also supporting the Achilles tendon to ease heel and arch pain.
Graduated Compression
Our Graduated Compression line was constructed to provide an unmatched custom-like fit, improving circulation and reducing muscle fatigue. Through the use of targeted compression, high-density cushioning, and anatomical design, this truly revolutionary line of compression socks for women promotes optimal blood flow, resulting in a faster recovery time for your active lifestyle. They also play a pivotal role in reducing the appearance and pain associated with varicose and spider veins.
Running socks for Women's Sizing Guide
Feetures® premium socks are engineered to provide a custom fit unlike any on the market. Designed to conform to your unique anatomical specifications, our running socks for women fit snugly to prevent bunching and reduce the risk of blisters. Our detailed sock size chart will assist in determining your optimal size. We generally recommend going up a size if you are between sizes to ensure maximum comfort. Please contact our team with any questions—we are happy to provide additional information in order to guarantee the perfect Feetures® fit.
Frequently Asked Questions About Our Women's Running Socks
Our mission is to engineer products that will make your feet feel their best, when you cross the finish line and beyond. Many runners overlook the correlation between their socks and performance, which is why we've compiled some common questions we receive regarding our breakthrough sock technology.
Should women's running socks be thick or thin?
While the thickness of your running socks relies heavily on personal preference, it's also worth noting that the materials used to construct your socks can play an even more critical role in overall performance. If you desire more cushioning under your feet or a better fit within your running shoes, extra thickness could prove beneficial.
We offer varying cushion levels ranging from ultra light to max cushion, allowing you to cater your Feetures® experience to your personal preference.
Should women's running socks be tight?
When it comes to how your women's running socks should feel when you pull them on, we prefer the word "snug." Each member of our running collection was designed to have a custom-like fit, often utilizing targeted compression and anatomical design—meaning they conform to each of your feet perfectly. They should never feel uncomfortably tight, as this would restrict the critical movement of your toes.
Do compression socks help with running?
The aim of compression socks is to prevent cramps and swelling by reducing excess movements made by your calf muscles. Wearing compression socks while running can help decrease the energy output of your legs, meaning your muscles will experience reduced effects of fatigue.
Our Graduated Compression line features 15-20 mmHg of compression at the ankle, gradually lessening towards the calf. This allows for increased blood flow, enhanced performance, and quick recovery.
Do you need special socks for running?
Not all socks are created equally. When it comes to women's running socks, investing in high-quality products can affect everything from your performance to your recovery time. At Feetures® we take pride in engineering top-of-the-line collections centered around innovative sock technology. We consider the direct impact that running has on the entire body, and design products geared toward providing unmatched comfort and optimal performance. If you're hitting the trails, check out our women's trail running socks for added comfort.
Why are cotton socks bad for running?
Cotton socks are simply not built for performance. They lack necessary moisture-wicking abilities, meaning they hold onto sweat, heat, and friction. This leads to painful blisters, calluses, chafing, and odor. When it comes to quality women's running socks, you should rely on material that provides optimal comfort, while ultimately keeping your feet dry.